Public Private Partnership Appraisal Committee (PPPAC)
The government of India has streamlined the appraisal and approval mechanism for Central Sector PPP projects to ensure speedy appraisal of projects, eliminate delays, and have uniformity in appraisal mechanisms. The Cabinet Committee on Economic Affairs (CCEA) in its meeting on October 27, 2005, approved the procedure for approval of Central Sector Public Private Partnership (PPP) projects. Pursuant to this decision, in 2006, the Government of India (GOI) notified the appraisal mechanism by setting up the Public Private Partnership Appraisal Committee (PPPAC) for the appraisal of PPP projects in the Central Sector.
The appraisal and approval authority for a Central Sector Project is based on the Capital costs or the cost of underlying assets (Value of the project) and is as follows: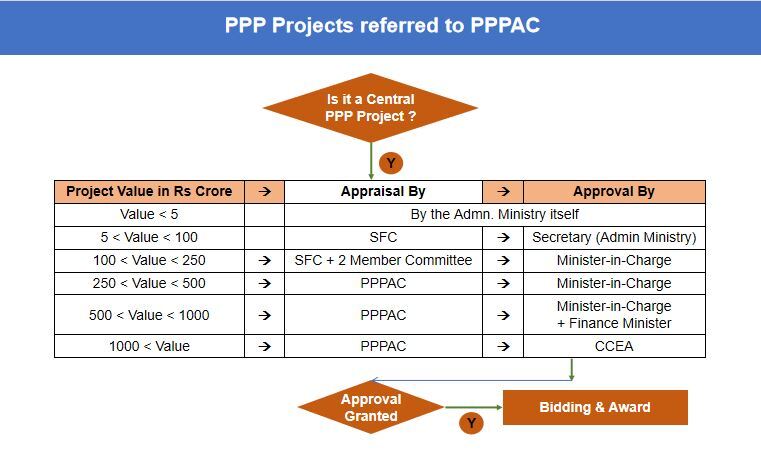 Further, higher delegation of Financial Powers have been granted in case of NHDP, Bharatmala and Port Sector projects.
Pursuant to the decision of the CCEA, a Committee for appraisal of PPP projects of all sectors of cost greater than Rs. 100 crore but less than Rs. 250 crore has been set up comprising of the following
Secretary of the Department of Economic Affairs
Secretary of the Ministry/Department sponsoring the project.
| Sr No. | Title | Announced On | Notified On | Attachment |
| --- | --- | --- | --- | --- |
| 1 | Notification of Constitution of the PPPAC (OM 2/10/2004-INF dated November 29, 2005). | - | - | |
| 2 | Notification of procedure for appraisal and approval of PPP projects(OM 1/5/2005 PPP dated January 12, 2006). | - | - | |
| 3 | Modification in appraisal and approval procedure for Public Private Partnership (PPP) projects | - | - | |
| 4 | Guidelines for Formulation, Appraisal and Approval of Central Sector Public Private Partnership Projects(Hindi version ) | 27-10-2005 | 12-01-2006 | |
| 5 | Guidelines for Formulation,Appraisal and Approval of Central Sector Public Private Partnership Projects(English version) | 27-10-2005 | 12-01-2006 | |
| 6 | Detailed process and guidelines are given here(OM 10/3/2006-Infra dated July 24, 2007) | - | - | |
Format for Submission of Proposals for Appraisal and Approval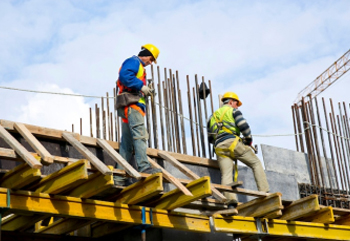 For submission to PPPAC
Secretary, Department of Economic Affairs (in the Chair)
Secretary, Planning Commission(now CEO Niti Aayog)
Secretary, Department of Expenditure
Secretary, Department of Legal Affairs
Secretary, Department Sponsoring a Project